Dental & Medical Wall Splashbacks
The use of hygienic splashbacks placed around walls above work surfaces provides a wipeable, easy to clean surface which aids good hygiene practice and helps reduce the time involved in cleaning.
Splashbacks provide a more hygienic surface than tiled, painted or papered walls.
Stainless splashbacks are suitable for use in dental, medical and decontamination rooms
Made from wipeable stainless steel sheets
Bonds to wall surfaces quickly and easily using silicone sealant or glue
Made to order sizes usually delivered in 7-10 days
Bespoke Splashbacks
For any splashback requirements, please phone or e-mail us with the quantity and sizes required.
T: 01923 268843
E: trade@notjusttaps.co.uk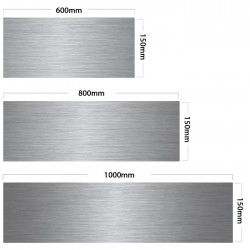 Dental & Medical Wall Splashbacks
£46.50
To achieve a hygienic, wipe clean splashback we provide stock sized stainless steel splashbacks in 3 lengths - 600, 800 and 1000mm